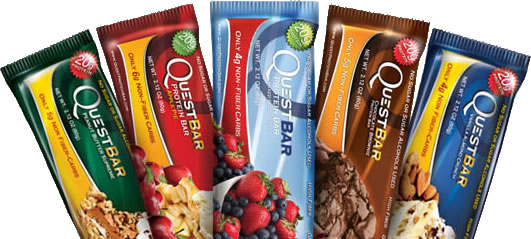 I rarely approve anything with confidence, about it and these protein bars deserve my full approval with flying colors.
Quest Low Carb Gluten Free Protein Bars
Everything you need to know about them can be found on their website. Everything they typed on their website is WHY I approve of these bars, information pills but to briefly recap:
High in superior quality protein

(20 grams)

Moderate in healthy fats

(5-10 grams depending on flavor)

Low in carbs

(2-6 grams depending on flavor derived from nuts)

Gluten-Free, price Wheat-Free and Grain-Free
No Added Sugar

(1-2 grams depending on flavor derived from nuts)

High Fiber

(17-19 grams depending on flavor)

Artificially and Naturally Sweetened

(Stevia & Splenda depending on flavor)
11 Flavors to choose from!
I've tried them all and love them all! They taste like soft cookies when microwaved for 15 seconds!
How To Order
Order directly from their website to avoid any extra handling and shipping fees in Kuwait. They'll ship them using UPS (United States Postal Service). Depending on how fast you choose to get them shipped (the faster the more expensive- which I did), you'll get them in Kuwait in no more than 14 days. I got a call today from Kaifan Central Communications Tower (next to Kuwait University). They gave me a package number.
Upon arrival, I gave them my Civil ID and package number, then filled in the required information (signature and contact number). My package was then transferred to customs (literally a few feet away). The customs dude told me to open my package. He took a peak, gave me the box and told me to have a nice day. HASSLE-FROCKING-FREE! This entire process took me less than 10 minutes!
Cost
My current order included 5 flavors (each box has 12 bars):
Cinnamon Roll
Chocolate Peanut Butter
Strawberry Cheesecake
Coconut Cashew
Lemon Cream Pie
I already have the other flavors. With EVERYTHING (includes shipping and whatever Quest charged me), my entire package cost $188 (KD 52.330).
To break it down for us cheap-heads (including yours truly):
Per pack: kD 10.466
Per bar: 872 fils
How much does the BEST bar cost in Kuwait (low quality ingredients- packed with inferior sources of protein, sugar, fat and other stuff I cannot pronounce)? KD 1.500 PER BAR!